From July to September 2006, I worked for Google UK as an intern in the marketing department. I was employed in promoting Google's Geo products: Google Maps (including their Maps API), Google Earth and SketchUp.
British Airways/Google comarketing project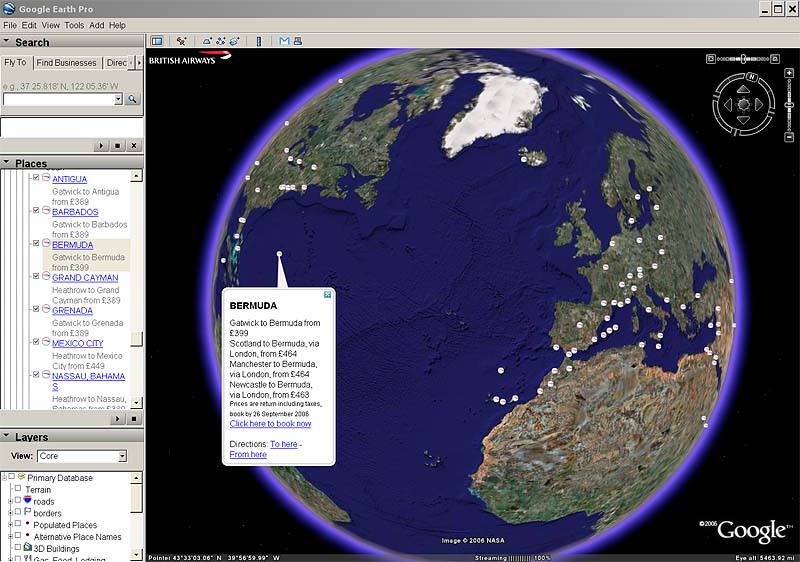 I created the British Airways September 2006 World Offers layer for Google Earth. The layer contains information about flight destinations and hotels included in this annual promotion, as well as 3D SketchUp models over every destination which show the price of a ticket there in clouds. The campaign was regarded as highly significant in both the advertising and technological media because:
It was the first time that the Google logo had appeared on any conventional advertising. British Airways, together with Agency.com, BBH and Framestore, created ads for range of "above the line" media, including posters, banners, newspaper and TV advertisements, all using images and video created with Google Earth. The TV adverts are also available at Google Video (Long Haul ad 1, Long Haul ad 2, Short Haul ad).
It is the first time an airline had used Google Earth; indeed, it is one of the highest-profile uses of the software to date. Earth allows consumers to check out the location of their entire holiday experience in high-resolution satellite imagery from the comfort of a computer in the UK (answering such immortal questions as "is the hotel really five minutes from the beach?") and therefore has a genuine, practical application for researching holidays. Such uses of the Earth software are the first forays into a geographical paradigm of browsing that could soon be as significant as the web is today.
I saw the project progress from inception to completion over my internship, and as well as creating the KMZ layer was involved in choosing imagery and geocoding, as well as attending marketing and PR meetings with both companies.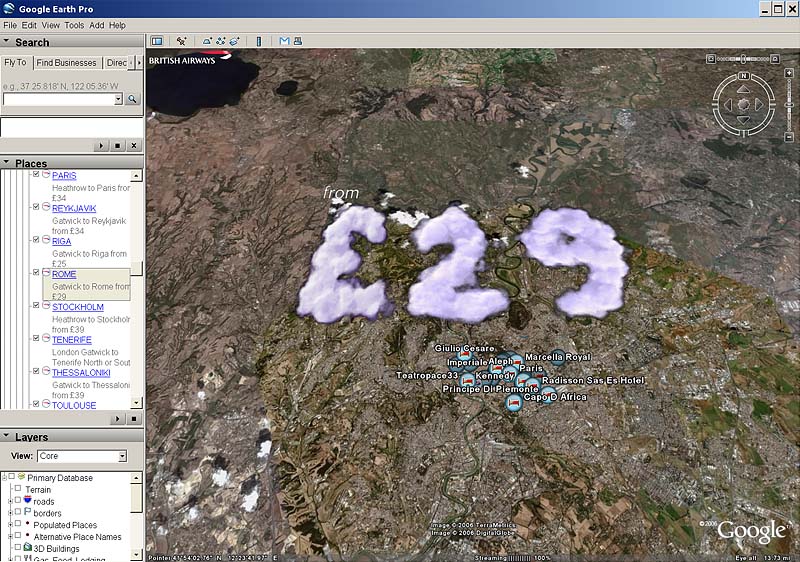 Download the Google Earth layer
To view the layer, you will need to download the latest version of Google Earth. The minimum version which will support the 3D cloud price models is version 4 beta.
Then, grab yourself the British Airways layer. It should open up in Google Earth by default if the installation went well.
Other projects
As well as generally sampling the culture at a laid-back, fast-growing Internet corporation, I also gained a wider understanding of its operations by involvement in a variety of smaller projects, including an investigation into promoting the Maps API, and creating a Maps API mash-up for myself.
Outside of the Geo products, I was involved in AdWords marketing strategy development and Doodle 4 Google.